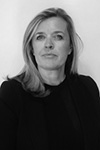 An obtained her law degree at the University of Namur and the Catholic University of Leuven (KUL) (1992). She also obtained a degree in Tax Law at the University of Brussels (ULB) in 1993.
She started her career in 1993 as a Tax Consultant with Arthur Andersen.
In 1997 she became a Tax Lawyer with Loyens and a member of the Brussels Bar.
Since 2001 she is a Tax Lawyer and Partner of the Law Firm Vandendijk & Partners. She is since 2017 elected Vice Chair of the Tax & Legal Committee and Chair of the Employee Tax Subcommittee of AMCHAM in Belgium.
Her particular expertise relates to International Tax Law in the area of Personal Tax (for residents and non-residents). She is specialized in advising with regard to termination packages (for employees/directors with a national and international career), the application of salary splits, the expatriate tax status, employee benefits (like stock options and share schemes) and pensions. She also assists with short and long term assignments to and from Belgium (application of double tax treaties and social security regulations). And she also defends her clients in the framework of administrative and legal tax procedures on personal tax related issues.
an.dereymaeker@vandendijk-taxlaw.be
Publications